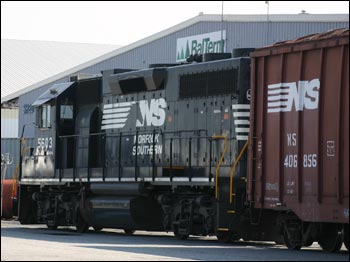 I hear that train a'coming …
The largest rail shipment the Port has ever received rolled into Baltimore on April 23, 2007. The train was more than a mile long (6,048 feet long), with 96 cars attached, most of which contained John Deere combines, a type of farm equipment. "Accommodating this size train was not a problem," said Sam Azzarello, General Manager Logistics for the Maryland Port Administration. "We had our game plan well in place. The team of logistical professionals both from Maryland Port Administration and [the] Norfolk Southern [Railway] came up with the plan that assured easy implementation."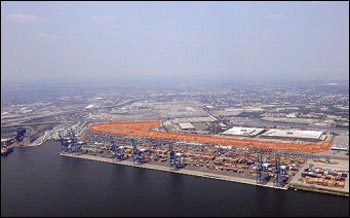 The Intermodal Container Transfer Facility (ICTF) at Seagirt Marine Terminal provides speedy service to Port customers. Cargo removed  from a ship only has to move 100 yards to be placed on railroad cars. If the rail lines weren't so close to the pier, how would the unloading time be affected?

Intermodal transportation
Technology and Geography Help the Port Excel
Intermodal transportation involves the transfer of goods between ("inter") different methods ("modal") of transportation, such as ships, trains, planes, and trucks.
Because of its location and the facilities at the Port, Baltimore has many advantages when it comes to moving goods between sellers and buyers:
The Port of Baltimore is closer to the Midwest than any other east coast port. The distance trucks have to carry goods from the Port to cities such as Indianapolis and Kansas City is shorter by 100 – 200 miles than if the goods travelled there from Norfolk or New York. Trucking over shorter distances costs shippers less and the lower costs are passed on to the customer. Trucks leaving Baltimore can reach 32 percent of the nation's population and 34 percent of the country's manufacturing facilities overnight.
The Port has quick and easy access to all methods of transportation. Railroads run right through the Port. US I-95, the east coast's main interstate highway, is a five-minute drive, at most, from the Port. Baltimore Washington International Thurgood Marshall Airport (BWI) is a 20 minute ride from the Port. In 2006, BWI handled an average of 56,703 passengers and 524 million pounds of freight daily.
The Port's equipment makes it easy to transfer containers and other cargo between ships and trucks or rails. For example, the Intermodal Container Transfer Facility at Seagirt Marine Terminal has eight transtainers (a type of crane which can lift 35 tons) and eight toploaders (a machine that can grab containers from the top) that move cargo quickly and efficiently from ships to waiting rail cars. Because of this and other equipment, Seagirt boasts up to 47 container moves an hour, the fastest in the North Atlantic region.