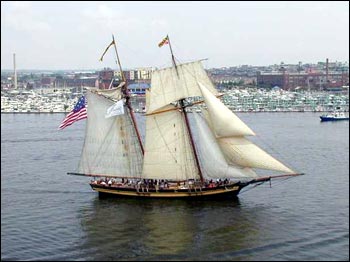 Think about it this way …

Shopping center and mall developers realize that making it easy for large numbers of customers to find, park, and shop at their locations can lead to increased profits.   They are often located on the main roads in a community or at the crossroads between several communities.  They have well-designed parking areas that offer easy access to the stores.  The variety of stores attracts many customers, increasing the potential customer traffic for all the stores. 

How is the port in Baltimore like a shopping center or mall?
People have always settled near the water …
Baltimore's natural harbor was an attraction long before the Port of Baltimore was built. Throughout history, people have settled near the water, because they can have a water supply, a "highway" to travel, and access to other food sources. Natural harbors are protected by land on most sides, so these areas are easier to defend. They also are deep enough to easily allow boats to travel about. In short, natural harbors are the starting point for many great cities around the world.
Proximity to local and national markets
Port's Location Extends its Customer Base
The natural harbor that we now call the Port of Baltimore has been used as a center for shipping and trading since 1706. Its deep waters and protected location make it a perfect place for the transfer of goods and services within the state, the nation, and the world.
Today, Baltimore's port is still one of the busiest in the country.
Baltimore has the east coast's most inland port. The Port is 200 miles closer to the Midwest than any other Atlantic port on the east coast. That means shippers can move their goods to the Midwest industrial markets more quickly and more cheaply than from any other port.
Because of this location, trucks leaving Baltimore can reach 35 percent of America's manufacturing base – and 32 percent of its population – overnight. Within 24 hours, they can deliver goods to steel manufacturers in Pittsburg, auto makers in Detroit, furniture makers in North Carolina, and consumers in Boston.
The Port is located in the Baltimore-Washington region, the fourth-largest consumer market in the country. This region, with over 6.8 million people, is also one of the richest consumer markets in the U.S. This is another benefit of the Port's location.
Every Port terminal is no further than a single traffic light away from connecting with I-95 and I-70, the primary north-south and east-west routes in the country. And I-83, which provides trucks with an easy connection to the Pennsylvania Turnpike, is also close to the Port.
A major international airport, Baltimore Washington International Thurgood Marshall Airport (BWI), is just a 20 minute drive from the Port.
Railroads run right by some Port terminals, with connecting services throughout the nation from the Norfolk Southern and CSX rail lines.